Teaser Tuesdays is a weekly bookish meme. Read the rules at Books and a Beat. Anyone can play along!
I recently read Robert B. Parker's Kickback, by Ace Adams. In case you don't know (I didn't) Robert B. Parker, the 'dean of American crime fiction' was the author of the books that inspired the Jesse Stone movies and Spenser for Hire TV Show. This is one of the books in the Spenser series.
"I often say that, when it comes to detective fiction, ninety percent of writers admit Robert B. Parker was an influence and the other ten percent lie about it," mystery writer Harlan Coben says in an e-mail.
When Robert B. Parker died, Ace Atkins was retained to continue writing the Spenser series. Kickback was a fun, tightly-plotted suspense book that kept my interest all the way though.
"Then you know what kind of crap these kids are capable of," he said. "I back down an inch, show I'm weak, and they'll take advantage of it. I see them looking at me like I'm just some fat doofus. They think protecting this school is a joke. I start laughing with them and the next thing I know some kid like Dillon Yates is running down the halls with an AR-15."
Ace Atkins, Robert B. Parker's Kickback
I had to include this little quote about Parker by his widow:
She points to the pictures of the dog, noting that they actually show three different dogs, all named Pearl. "One would die and then he'd get another German shorthaired pointer," she says. "In his mind, he had one Pearl for thirty years." She used to give him a hard time about it. "If I predecease you," she'd say, "you'll find someone my height, my hair color, you'll rename her Joan, and it will be as though I never left."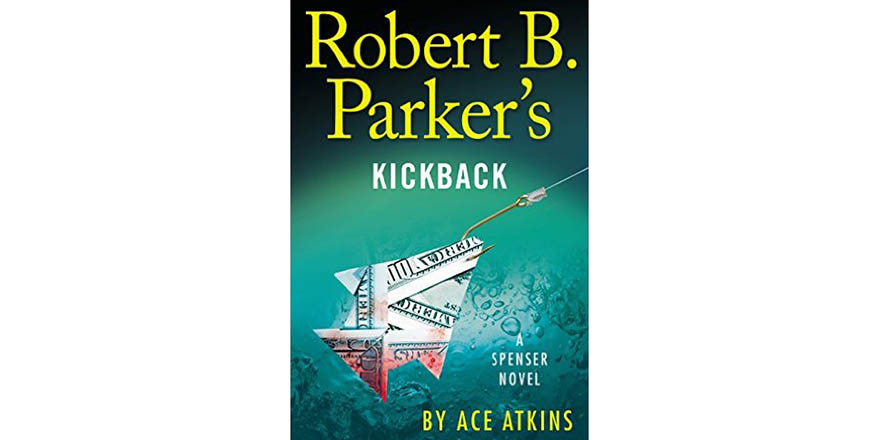 What started out as a joke landed seventeen-year-old Dillon Yates in a lockdown juvenile facility in Boston Harbor. When he set up a prank Twitter account for his vice principal, he never dreamed he could be brought up on criminal charges, but that's exactly what happened.
This is Blackburn, Massachusetts, where zero tolerance for minors is a way of life.
Leading the movement is tough-as-nails Judge Joe Scali, who gives speeches about getting tough on today's wild youth. But Dillon's mother, who knows other Blackburn kids who are doing hard time for minor infractions, isn't buying Scali's line. She hires Spenser to find the truth behind the draconian sentencing.
From the Harbor Islands to a gated Florida community, Spenser and trusted ally Hawk follow a trail through the Boston underworld with links to a shadowy corporation that runs New England's private prisons. They eventually uncover a culture of corruption and cover-ups in the old mill town, where hundreds of kids are sent off to for-profit juvie jails.