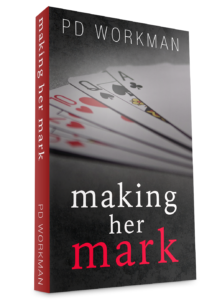 I am publishing Making Her Mark later this week. Read a free preview here and sign up for the Goodreads Giveaway for chance to win a paperback copy.
I also finished the first draft of a new project yesterday. It's a new kind of project for me, but I can't tell you about it yet!
Teaser Tuesdays is a weekly bookish meme. Read the rules and more teasers at The Purple Booker. Anyone can play along.
I am currently reading Gone Again by James Grippando, a legal thriller in which Jack Swyteck is trying to save a death row inmate from his imminent date with the electric chair. Dylan Reeves was convicted of killing a seventeen-year-old girl, but the mother of the victim doesn't belief she is dead. I recognized almost immediately that RAD (Reactive Attachment Disorder) was going to play a big part in this book, which means that so far, I have anticipated all of the twists. But I am still enjoying it!
"No, you don't understand. Sasha isn't dead."

Jack did a double take. "What?"

"My daughter is alive."

"Where is she?"

"I don't know. But Sashi is alive. I know she's alive. And I need you people to help me prove it, before they execute this man for killing her."
James Grippando, Gone Again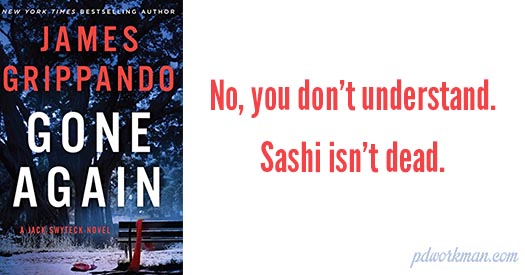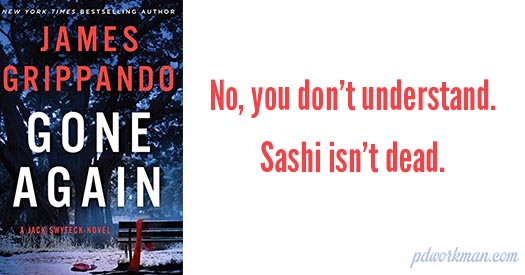 Sashi Burgette vanished three years ago on her way to school. The night after the teenager's disappearance, ex-con Dylan Reeves was stopped for drunk driving.
An article of Sashi's clothing was found in his truck, and a police videotape of his drunken explanation under interrogation sealed his fate at trial. Now, just days from Reeves's execution, Sashi's mother visits Jack Swyteck, doing pro bono work at the Freedom Institute, and delivers shocking news: "Sashi called me."
The police dismiss the call as a cruel hoax. The State Attorney refuses to consider the new evidence, insisting the case is closed. An innocent man may be executed and time is running out—unless his lawyers can locate Sashi.
A man of principle who believes in justice, Jack jumps into the investigation. But nothing is what it appears to be. Not the victim. Not her alleged killer. And definitely not Sashi's parents. As their gut-wrenching and hopelessly conflicting version of events unfolds in a Miami courtroom, it becomes clear there is something even more difficult to find than a long-missing girl . . .
The truth.