Making Her Mark will be released soon. Be one of the first to read it by entering to win a paperback copy through this Goodreads Giveaway!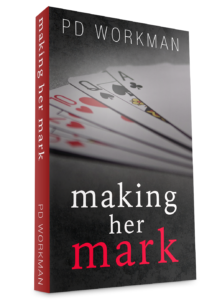 Secrets and lies
When everything changed, Kelli thought she would be happy. But nothing really changed.
Kelli's life has never been easy. She's always faced her problems head on. She's strong and savvy and in charge of herself. All of that is about to change.
Her life is turned upside down when she discovers the secret that her mother has been hiding from her for years.
Kelli thinks this is her one chance at happiness. But is it?
Praise for Making Her Mark
"Another amazing read. The way [Workman] writes makes me feel like I'm living the story through the main character … I love [Workman's] writing so much I build this relationship with the characters and it makes me think about them even outside of reading about them."
Praise for P.D. Workman
"Every single one of [P.D. Workman's] books has spoken to me in ways no one or almost anything else has. And I have found strength in the books I've read."
"The way that P.D. Workman writes just flows amazingly and allows the reader to get really invested in a book."
"This is one author I certainly will be looking out for, I can't recommend it enough. A fantastic book."