The beginning of a new year naturally starts people thinking about new beginnings. New Year's resolutions, goal-setting, self-improvement, and planning for success.
I have started with some of my favourite goal-setting and planning books, but don't stop reading if you are not a New Year's Resolutions person, because I've also pulled together some fiction and non-fiction books with the theme of new beginnings!
Your Best Year Yet!, by Jinny S. Ditzler
Feel you're not getting anywhere?
Putting off what matters most because you're too busy?
Know you have talent and intelligence you're not using?
Your Best Year Yet! is considered the source book for personal transformation and planning that has motivated and inspired people for over 17 years. This system has helped over a million people to stop thinking about what they want – and start making things happen.
The 7 Habits of Highly Effective People, by Steven R. Covey
When it was first published in 1989, The 7 Habits of Highly Effective People was an almost instant bestseller–and quickly became a permanent part of the cultural lexicon. This book continues to help millions of readers become more effective in both their personal and professional lives.
This is one of the rare books that has influenced presidents, CEOs, educators, and individuals all over the world not only to improve their businesses and careers but to live with integrity, service, dignity, and success in all areas of life. It has had an undeniable impact for the past 25 years–and will no doubt continue to be influential for many more.
Getting Things Done, by David Allen
Since it was first published almost fifteen years ago, David Allen's Getting Things Done has become one of the most influential business books of its era, and the ultimate book on personal organization. "GTD" is now shorthand for an entire way of approaching professional and personal tasks, and has spawned an entire culture of websites, organizational tools, seminars, and offshoots.
This new edition of Getting Things Done will be welcomed not only by its hundreds of thousands of existing fans but also by a whole new generation eager to adopt its proven principles.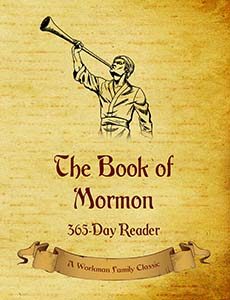 The Book of Mormon 365-Day Reader
A lot of my LDS readers will be setting goals to read the Book of Mormon in 2017. This Workman Family Classics edition is already broken into 365 daily readings, with space for notes (in the print edition), and a downloadable resource pack.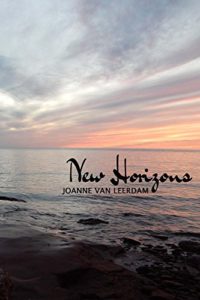 New Horizons, by Joanne Van Leerdam
A change of scenery. A new direction. A break in the weather.
Who hasn't hoped for something different at some point in their life?
These sixteen short stories offer insights into how people respond when they encounter experiences and events they have not foreseen, or when they discover new horizons in their lives.
The Big C, by Debbie Manber Kupfer
Six weeks after my father passed away I discovered a lump in my breast. I was terrified as I embarked on the road of cancer treatment, but it's amazing what you can get used to. At the time I shared little with others beyond my close family, but today I'm ready to share my story to help other women have strength to go through treatment. You are much stronger than you think you are.
All money raised from the sale of this book will go towards yarn and materials for creating Knitted Knockers, special handmade breast prosthesis for women who have undergone mastectomies or other procedures to the breast.
The New Girl: The Extraordinary Ordinary Life of Cassandra Jones, by Tamara Hart Heiner
What's special about Cassandra? Absolutely nothing. She's as ordinary as any other fifth grader. And yet her ordinary life is riddled with hilarious and sometimes heart-breaking mishaps as she guides herself through the world of pre-teens on the brink of adulthood.
Cassandra Jones is the new girl at school. She's been uprooted from her beloved state of Texas and relocated to the hillbilly Ozarks of Springdale, Arkansas. She wonders if she will like her teacher or if she will have any friends. She can only hope school won't be harder than it was back home.
She doesn't expect to have two close friends, and even worse, two friends that don't like each other. As she tries to make a spot for herself, will she keep her friendships intact?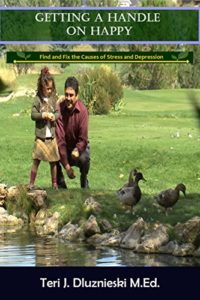 Getting a Handle on Happy, by Teri J. Dluznieski
We all want to have successful happy relationships. We all know that amazing feeling when we connect with someone and things just click. Things go smoothly and just flow. Before we can have those really great relationships, we need to learn what it means to be happy. And we need to resolve the things that sabotage our happiness.
A whole lot of experiences and factors make up who you are. What you do, what you eat, beliefs and perceptions.
Getting a Handle on Happy guides you through all of this, easily and smoothly. One or more of these areas just MIGHT be causing the problems you are experiencing. You will learn exercises that resolve past emotional issues- so that your future relationships are positive and exciting. You will improve your happiness tremendously- just by adding certain vitamins and supplements to your diet. And there are tons of natural remedies you can use. All of these areas will create new insights and perspectives. You will be amazed at how these shifts open new possibilities and resolve past and present problems.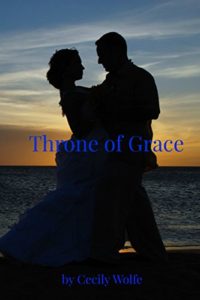 Throne of Grace, by Cecily Wolfe
Arthur Davenport has it all: looks, money, and a successful future planned by his parents. He knows that something is missing, but when he and Josie, his mother's maid, develop a friendship that can only be based on Christian values, he realizes that his love for her is the key to his happiness. Can he convince her that he would gladly give up his life of luxury for a life of service with her?
Each Day a New Beginning, by Karen Casey
Each day holds its promise, and life's journey begins anew. Find inspiration and guidance for dealing with the challenges and new experiences of recovery in the writings in Each Day a New Beginning–from a woman who cares about others. Beloved author, Karen Casey, writes about self-esteem, friendships with other women, hope, attitudes about life and relationships, and more. Her words help bridge the gap between self and Higher Power, between loneliness and sharing the emotions of recovery.
Each day's message begins with a quotation–from such exceptional women as Agatha Christie, Annie Dillard, Beverly Sills, Helen Keller, Maria Montessori, Adrienne Rich, Katharine Hepburn, Amelia Earhart, and many more–and ends with an affirmation, marshaling the feminine courage and spirit, wisdom and wit that make every day count.
Love Comes Softly, by Janette Oke
Love Comes Softly introduced the characters of Marty and Clark Davis, whose tragic circumstances brought them to a "marriage of convenience" on the frontier prairies during the mid 1800s. The story of how Clark's patient, caring love mirrored that of the heavenly Father, drawing Marty to faith and to love, has captured the hearts and imaginations of over one million readers on Book One alone!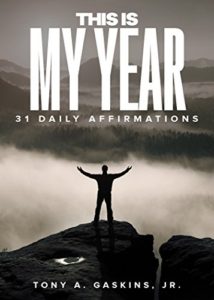 This is My Year, by Tony Gaskins Jr
This book is a powerful reminder of the messages we should tell ourselves daily. Filled with powerful affirmations that will help you start your day the right way. This book is intended to be used all year. The messages are timeless and will forever be motivational.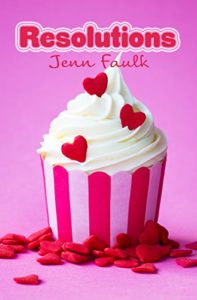 Resolutions, by Jenn Faulk
Three friends, ten resolutions, and a year full of big life changes.
For Emily Fisher and her friends, New Year's Eve has never been about more than eating cake and watching the minutes until midnight disappear. This year, though, Emily, Sara, and Melissa decide that as they approach the age of thirty, they're going to make some bold resolutions together and see them through in the year ahead, never guessing how dramatically life will change for them in the process.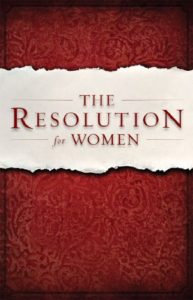 The Resolution for Women, by Priscilla Shirer
Written in partnership with Sherwood Pictures' upcoming film, COURAGEOUS, in The Resolution for Women, popular speaker and author Priscilla Shirer challenges all women to be intentional about embracing and thriving in God's beautiful and eternal calling on their lives.
Like the men in the movie who resolve to fully accept their responsibilities before God, Shirer explains how today's women can and should live out their own resolution. It is "a defining banner that hangs over your life, written in the ink of your own choices." A woman's banner should be an accurate reflection of who she desires to be-someone completely Christ-centered who blesses and changes things in her world for the better.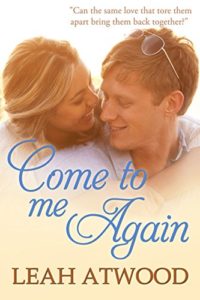 Come to me Again, by Leah Atwood
Dominic Sellers dreamed of escaping a life of poverty and making a living playing music. On the brink of giving up, he's offered the chance of a lifetime to be the new guitarist for Bryce Landry. His life finally aligned with his goals, but something was missing.
Four years ago, Maisy Rothchild walked away from her fiancé—her best friend and the only man she'd ever loved. She'd give anything to go back and change that day, but that wasn't possible. There were factors that complicated the situation, things she couldn't tell anyone.
When she makes a bold move to restore their friendship, can the same love that tore them apart bring them back together?
New Year's Resolutions Suck!, by Cristy "Code Red" Nickel
New Year's Resolutions SUCK–especially weight loss resolutions. They're all about guilt and stress and making up for past "sins" (especially the recent holiday binges). They make you feel like there's something wrong with you, that somehow you're not okay. You have to "get your life together". If you're ready to make a healthy change in your life–you can do it! No matter what time of year it is.
New Year's Eve
New Year's Eve is a collection of short stories produced by an online workshopping group formed by the Australian Writer's Centre. The stories are based around the theme of New Year's Eve and span different genres; some embracing celebration, others following a darker journey into the New Year.