Don't miss my new release of multi-author bundle of cozy mysteries, Cozy Winter Reads, and check out the other deals in the sidebar.
Teaser Tuesdays is a weekly bookish meme. Read the rules and more teasers at The Purple Booker. Anyone can play along.
Something a little different this week, The Twelve is a 600 page post-apocalyptic dystopian epic with viral vampires. I haven't read anything by Justin Cronin before. This is the second book in his Passage trilogy. I have found the switches back and forth through the timeline very confusing, and feel like the stories I was most interested in have been abandoned. But I'm only halfway through, so maybe the other storylines will reappear or will be resolved somehow.
She pulled the blade free, touched it to her head and heart. Thank you, Mary, for not killing me before my work is complete. I hope you are with your little ones now.
The Twelve, Justin Cronin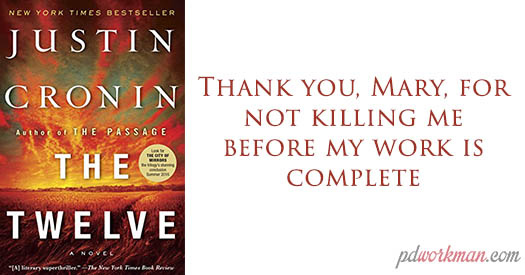 A literary thriller revealed in multiple time frames, The Twelve is a suspenseful tale of the human capacity for sacrifice and the transformative power of renewal. In the present day: As three strangers attempt to navigate the chaos cast upon civilization by a U.S. government experiment gone wrong, their destinies intertwine. More than a hundred years in the future: Amy, Peter, Alicia and the others introduced in The Passage pinpoint the weaknesses of the twelve original vampires . . . even as they confront a betrayal by one of their own.