Teaser Tuesdays is a weekly bookish meme. Read the rules at Books and a Beat. Anyone can play along!
Since my new book is coming out soon, I am going to post a teaser from Loose the Dogs as well, so scroll down after the first teaser for a bonus!
Teaser #1
I just started reading The Rest of Us Just Live Here by Patrick Ness. A funny, anti hero-trope book with some serious underlying messages about real life.
The indie kids, huh? You've got them at your school, too… Nice enough, never mean, but always the ones who end up being the Chosen One when the vampires come calling or when the alien queen needs the Source of All Light or something… They've always got some story going on that they're heroes of. The rest of us just have to live here…

Having said that, the indie kids do die a lot. Which must suck.
The Rest of Us Just Live Here, Patrick Ness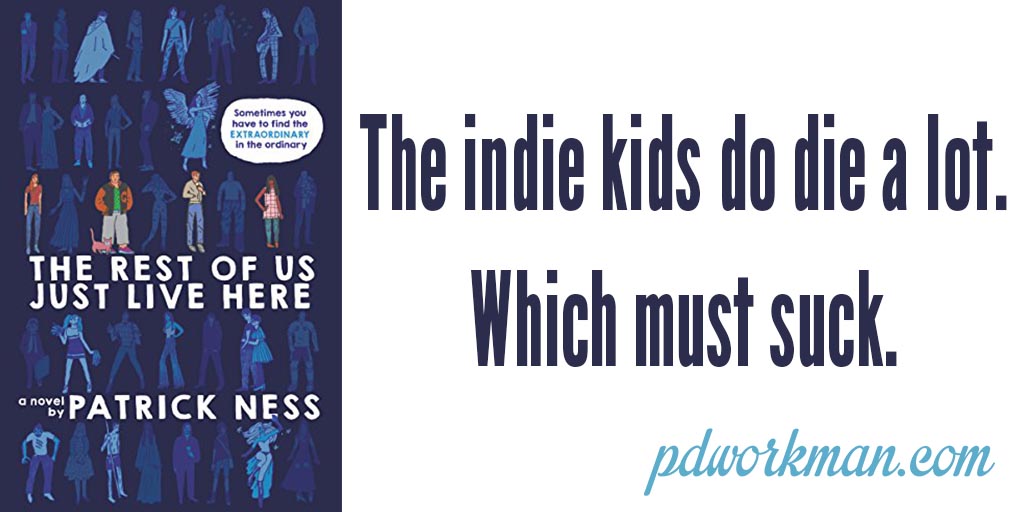 What if you aren't the Chosen One? The one who's supposed to fight the zombies, or the soul-eating ghosts, or whatever the heck this new thing is, with the blue lights and the death?
What if you're like Mikey? Who just wants to graduate and go to prom and maybe finally work up the courage to ask Henna out before someone goes and blows up the high school. Again.
Because sometimes there are problems bigger than this week's end of the world, and sometimes you just have to find the extraordinary in your ordinary life.
Even if your best friend is worshipped by mountain lions.
Teaser #2
And here is a second teaser from my upcoming book Loose the Dogs. A little bit of thriller/suspense.
Frank stared in horror. "They are letting them go?" he said to Janice, in shock. "They are letting them all go?" He was aware he was shouting at her, even though it wasn't her fault. "Those animals should be destroyed! They are killers! You can't just unleash killers on an unsuspecting public!"
Loose the Dogs, P.D. Workman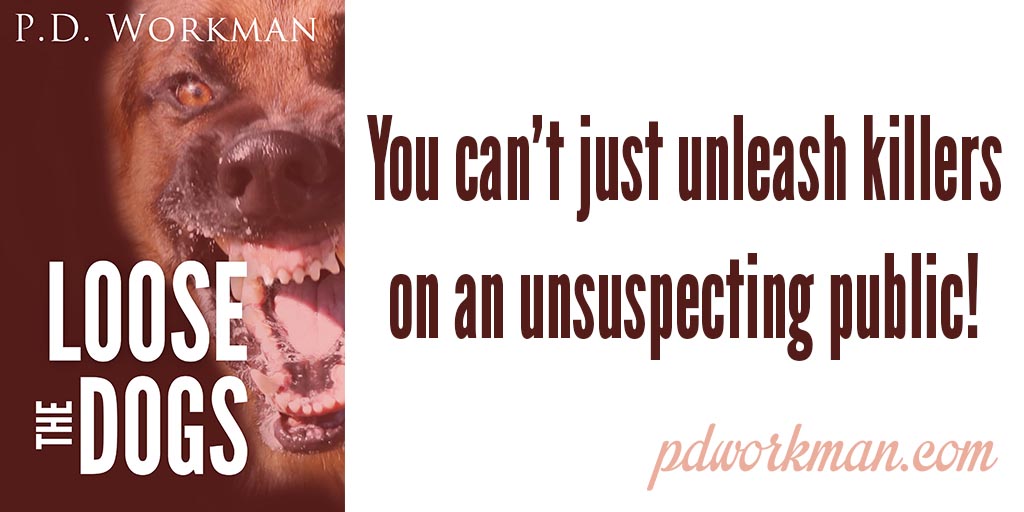 You'll never look at your dog the same way again.
Award-winning author P.D. Workman takes you on a journey to discover the dark side of man's best friend. Each incident is inspired by actual events. Loose the Dogs will grab you by the throat and shake you to your toes. You will learn just how fast a bright sunny day can turn to the darkest despair.
Cry havoc and let slip the dogs of war!
Seven dogs are adopted by families all across the country who do not know their history…
"Of one thing I am sure," Glenn declares. "These dogs are perfectly harmless."
Frank knew it wasn't true.
He would never forget walking into that trailer. He saw it in his mind every time he closed his eyes. He woke up in the middle of the night drenched in sweat, seeing those eyes and those teeth, screaming soundlessly, gasping for breath.
"He never saw those dogs. How could anyone make such a stupid a decision, knowing what they did?"
Praise for Loose the Dogs
"I loved reading Loose the Dogs. The pages almost turned themselves. P.D. Workman really hits a nerve with this one."
"Loose the Dogs… had me on pins and needles from the get go. What a marvelous story!"
"Loose the Dogs was really scary! Just say no to dogs."
"I was wondering in which way this book was going to go, but my goodness it sure did pack a punch into the mix."
Praise for P.D. Workman
"Every single one of [P.D. Workman's] books has spoken to me in ways no one or almost anything else has. And I have found strength in the books I've read."
"The way that P.D. Workman writes just flows amazingly and allows the reader to get really invested in a book."
"This is one author I certainly will be looking out for; I can't recommend it enough. A fantastic book."