Teaser Tuesdays is a weekly bookish meme. Read the rules and more teasers at The Purple Booker. Anyone can play along.
I had heard a lot of good things about Neil Gaiman's books; I knew they were hugely popular. But I had never read any of his work before. So when I saw Neverwhere, I decided to pick it up and give it a go. It is a slow start, and I just about gave up on it before things started to get interesting, but I was sure it had to pick up, and it did! What can I compare Neverwhere to? Tim Burton meets Inkheart and Monty Python? That might about cover it! Here is my teaser:
He's a little bit dodgy in the same way that rats are a little bit covered in fur.
Neil Gaiman, Neverwhere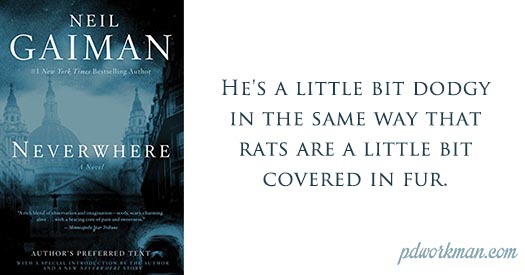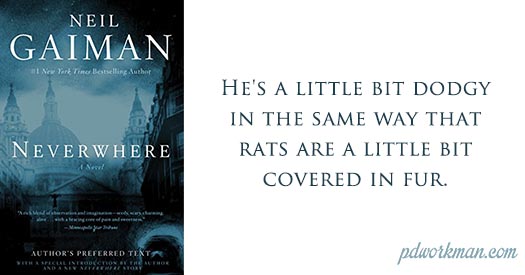 Neverwhere is the story of Richard Mayhew, a young London businessman with a good heart and an ordinary life, which is changed forever when he discovers a girl bleeding on the sidewalk. He stops to help her—an act of kindness that plunges him into a world he never dreamed existed.
Slipping through the cracks of reality, Richard lands in the Neverwhere—a London of shadows and darkness, monsters and saints, murderers and angels that exists entirely in a subterranean labyrinth. The Neverwhere is home to Door, the mysterious girl Richard helped in the London Above. Door, a noblewoman whose family has been murdered, is on a quest to find the agent that slaughtered her family and thwart the destruction of this underworld kingdom. If Richard is ever to return to his former life, he must join the journey to save Door's world—and find a way to survive.