Teaser Tuesdays is a weekly bookish meme. Read the rules at Books and a Beat. Anyone can play along!
I released Loose the Dogs yesterday! Click to read a couple of chapters for free.
Today's teaser comes from Neal Shusterman's Challenger Deep. Challenger Deep was previously mentioned in my Reading list: Young Adult Fiction about Psychosis, but I didn't read it until recently. It is not an easy read; you dive straight into the brain of schizophrenic teen Caden Bosch, and it takes a while to start sorting out the threads of reality. It is a satisfying and insightful read.
There are times I feel like I'm the kid screaming at the bottom of the well, and my dog runs off to pee on trees instead of getting help.
Challenger Deep, Neal Shusterman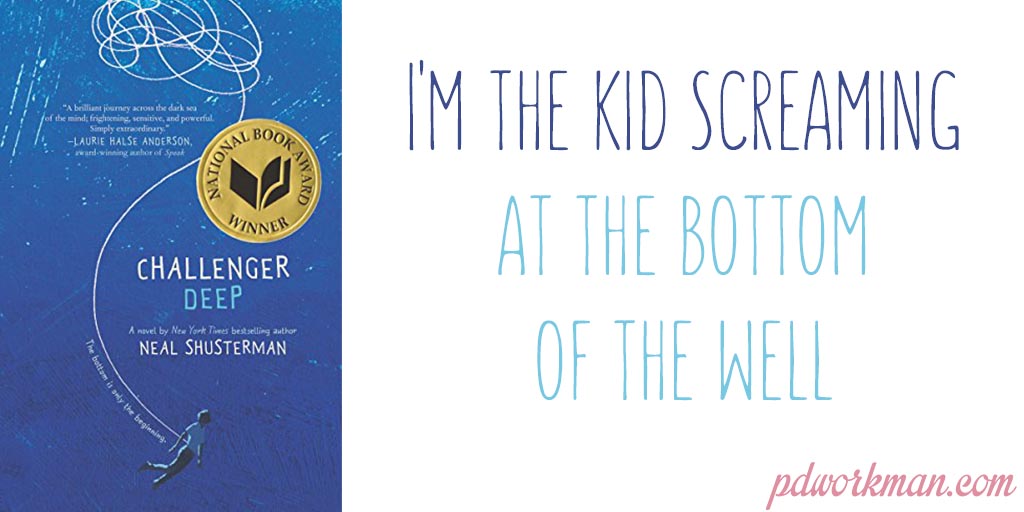 Caden Bosch is on a ship that's headed for the deepest point on Earth: Challenger Deep, the southern part of the Marianas Trench.
Caden Bosch is a brilliant high school student whose friends are starting to notice his odd behavior.
Caden Bosch is designated the ship's artist in residence to document the journey with images.
Caden Bosch pretends to join the school track team but spends his days walking for miles, absorbed by the thoughts in his head.
Caden Bosch is split between his allegiance to the captain and the allure of mutiny.
Caden Bosch is torn.