I had the brilliant idea recently that I should write up some lists of books that are similar in genre and subject matter as my own. As you know from my tagline, I mainly write suspense and young adult fiction about mental illness, addiction, and abuse.
There are a lot of different forms of mental illness, so I decided to start with a list of books with a main character (and/or caregiver) with some form of psychosis—basically, someone who loses touch with reality.
Searching "Reading List" in the search field of the sidebar will pull up other posts in this series.
I'm interested in hearing your comments! What books would you add to the list? What do you like? What did you not like?
My books that include main characters who may have psychosis are:
Looking Over Your Shoulder
Just because you're paranoid, that doesn't mean someone isn't out to get you.
Things were going well for Abe.  Despite all of his past struggles with mental illness, he was happily married, had three wonderful children, a nice home, and a fantastic consulting business that satisfied his creativity and brought in a good income.
But you can never get too comfortable.  When Abe becomes a prime suspect in a jewel heist – one of the largest successful jewel heists in history – his schizophrenia becomes unmanageable and everything begins to spiral out of control.  Abe's own investigation into the heist has the jewel thieves hot on his tail… but are they really, or is he just losing the battle against his inner demons?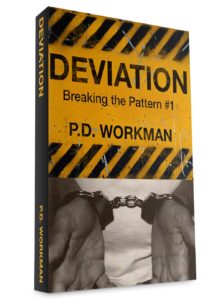 Deviation
"You're a good kid, Henry."
Everyone knew that he was a good guy; geeky, responsible, hard-working.  Henry has had a lot to deal with in the past.  Now, as he should be focusing on his schooling and preparing himself for the future, he is hindered by abuse, the challenge of raising his baby brother while dealing with his mother's deep depressions, and the return of a ghost from the past Henry has tried his best to forget.
But it seems that Henry can't avoid the nastiness of life.  As hard as he tries, it's one more disaster after another as his life spirals out of control.
Can Henry escape the darkness, or is he doomed to be consumed by it?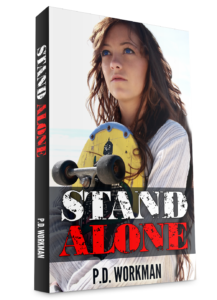 Stand Alone (also available in Spanish)
Is Justine crazy?
Everyone thinks so…
Her mother. The kids at school, and the teachers and administrators too. Even the police who pick her up from her night rambles. Maybe them most of all.
Justine's therapist says she is 'troubled', but it means the same thing. He thinks that her vivid, reoccurring nightmares and atrocious behavior point to some trauma in her past; but Em, Justine's mother, can't explain it.
Justine used to have Christian, her best friend and skateboard partner. He was the only one who accepted her. Maybe because skating is the only time that Justine is really free to be herself. Now that Christian is gone… Justine keeps thinking things can't get any worse.
Even as she sees her life spinning further and further out of control, Justine can't give up her sense of who she is—someone far different than the loving daughter Em expects her to be—to just fit in and be happy. She is sure that Em secretly holds the key to who Justine really is. But if she does, Em isn't talking.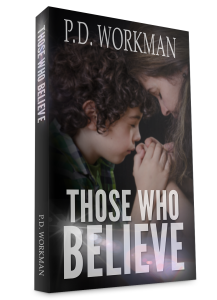 Those Who Believe
These signs shall follow those who believe…
On the run from Social Services and others who do not understand their beliefs, Nathan and his mom, faith-healer Billie Ashbury move into yet another a new town.
Nathan again faces the challenges of making new friends and of keeping his family's secrets. But what he really struggles with is his wavering faith and reconciling his actions with what his devoted mother has taught him from the cradle. Could disobeying her ever be right? His life could depend on the answer.
The other books that I have picked out are: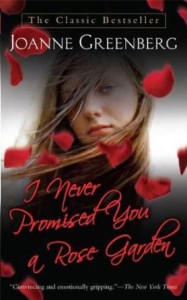 I Never Promised You a Rose Garden by Joanne Greenberg
Enveloped in the dark inner kingdom of her schizophrenia, sixteen-year-old Deborah is haunted by private tormentors that isolate her from the outside world. With the reluctant and fearful consent of her parents, she enters a mental hospital where she will spend the next three years battling to regain her sanity with the help of a gifted psychiatrist. As Deborah struggles toward the possibility of the "normal" life she and her family hope for, the reader is inexorably drawn into her private suffering and deep determination to confront her demons.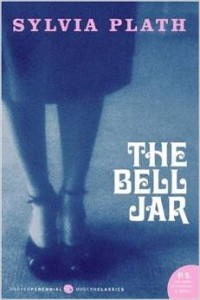 The Bell Jar by Sylvia Plath
The Bell Jar chronicles the crack-up of Esther Greenwood: brilliant, beautiful, enormously talented, and successful, but slowly going under — maybe for the last time. Sylvia Plath masterfully draws the reader into Esther's breakdown with such intensity that Esther's insanity becomes completely real and even rational, as probable and accessible an experience as going to the movies. Such deep penetration into the dark and harrowing corners of the psyche is an extraordinary accomplishment and has made The Bell Jar a haunting American classic.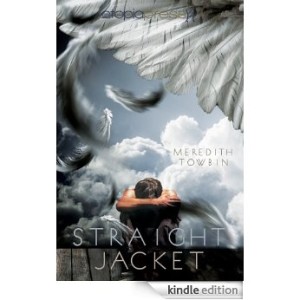 Straight Jacket by Meredith Towbin
Eighteen-year-old Anna has lived her whole life in shame, losing herself in books to cope with crippling panic attacks triggered by her abusive parents. Forced into a psychiatric hospital, she can't imagine a future that's anything but bleak—until she meets Caleb, a gifted, 19-year-old artist who insists he's an angel.
He swears his mission is to help Anna break free from her parents' control and fulfill a destiny she can only dream of. The doctors, however, are convinced that Caleb is delusional.
Anna doesn't want to be that girl who's in love with the guy "with issues," but when she sees his stunning portraits of her and the way he risks everything to keep her safe, she can't help but imagine a new future for the two of them, filled with hope. Then just as it seems they've created heaven on earth, Caleb's past emerges full force, threatening to destroy their tiny, blissful world. And Anna has to decide if she should follow her heart, or if Caleb's really as troubled as his doctors say…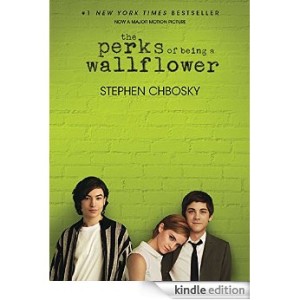 The Perks of Being a Wallflower by Stephen Chbosky
Perks follows observant "wallflower" Charlie as he charts a course through the strange world between adolescence and adulthood. First dates, family drama, and new friends. Sex, drugs, and The Rocky Horror Picture Show. Devastating loss, young love, and life on the fringes. Caught between trying to live his life and trying to run from it, Charlie must learn to navigate those wild and poignant roller-coaster days known as growing up.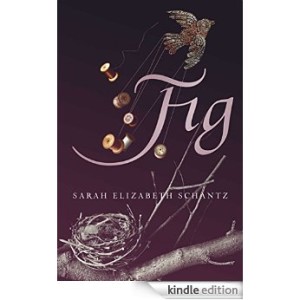 Fig by Sarah Elizabeth Schantz
Fig's world lies somewhere between reality and fantasy.
But as she watches Mama slowly come undone, it becomes hard to tell what is real and what is not, what is fun and what is frightening. To save Mama, Fig begins a fierce battle to bring her back. She knows that her daily sacrifices, like not touching metal one day or avoiding water the next, are the only way to cure Mama.
The problem is that in the process of a daily sacrifice, Fig begins to lose herself as well, increasingly isolating herself from her classmates and engaging in self-destructive behavior that only further sets her apart.
Spanning the course of Fig's childhood from age six to nineteen, this deeply provocative novel is more than a portrait of a mother, a daughter, and the struggle that comes with all-consuming love. It is an acutely honest and often painful portrayal of life with mental illness and the lengths to which a young woman must go to handle the ordeals—real or imaginary—thrown her way.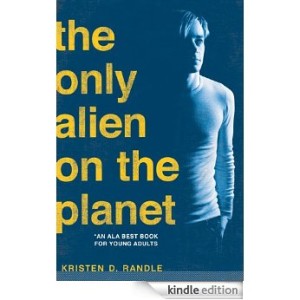 The Only Alien on the Planet by Kristen D. Randle (I am a huge fan of Randle!)
New town, new school, new friends. It was difficult for Ginny at first, but her senior year is finally starting to feel kind of normal. That is, until she sees him—the beautiful mystery in her English class. He has never spoken a word to anyone. He moves through each day at school without making eye contact. His name is Smitty Tibbs, but everyone calls him the Alien.
Ginny is convinced there's more to the Alien than his muted exterior. But as she attempts to break into his safe and emotionless world, she realizes her efforts might be causing more harm than good. Has she gone too far, or not far enough?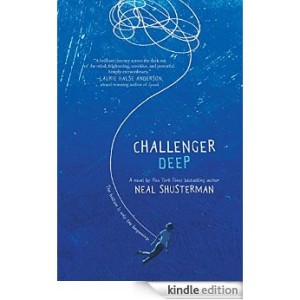 Challenger Deep by Neal Shusterman
Caden Bosch is on a ship that's headed for the deepest point on Earth: Challenger Deep, the southern part of the Marianas Trench.
Caden Bosch is a brilliant high school student whose friends are starting to notice his odd behavior.
Caden Bosch is designated the ship's artist in residence to document the journey with images.
Caden Bosch pretends to join the school track team but spends his days walking for miles, absorbed by the thoughts in his head.
Caden Bosch is split between his allegiance to the captain and the allure of mutiny.
Caden Bosch is torn.
I'm interested in hearing your comments! What books would you add to the list? What do you like? What did you not like?