In case you missed it, check out my pre-release promotion for Loose the Dogs! Just click on the graphic in the sidebar.
Teaser Tuesdays is a weekly bookish meme. Read the rules at Books and a Beat. Anyone can play along!
My teaser today comes from Best Boy by Eli Gottlieb. This is a novel written in the first-person point of view of an adult with autism who is living in an assisted living facility. A quick look at Twitter reveals that Eli Gottlieb's brother is autistic. I enjoyed Todd Aaron's journey through the progress of the story.
Until recently, I was very happy at Payton, where I live with the other "villagers" in cottages with painted numbers on them arranged in a circle on a big plate of grass.
Best Boy, Eli Gottlieb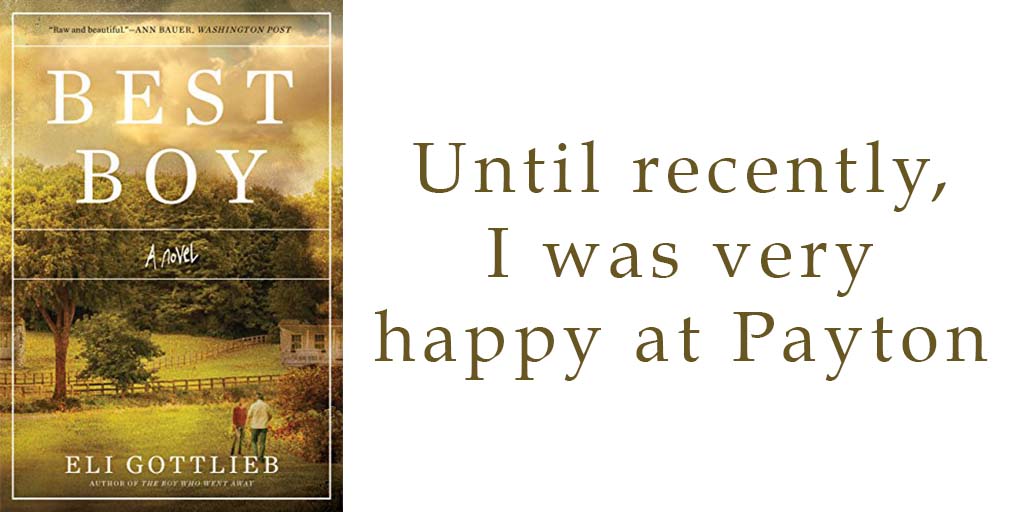 Sent to a "therapeutic community" for autism at the age of eleven, Todd Aaron, now in his fifties, is the "Old Fox" of Payton LivingCenter. A joyous man who rereads the encyclopedia compulsively, he is unnerved by the sudden arrivals of a menacing new staffer and a disruptive, brain-injured roommate. His equilibrium is further worsened by Martine, a one-eyed new resident who has romantic intentions and convinces him to go off his meds to feel "normal" again. Undone by these pressures, Todd attempts an escape to return "home" to his younger brother and to a childhood that now inhabits only his dreams. Written astonishingly in the first-person voice of an autistic, adult man, Best Boy—with its unforgettable portraits of Todd's beloved mother, whose sweet voice still sings from the grave, and a staffer named Raykene, who says that Todd "reflects the beauty of His creation"—is a piercing, achingly funny, finally shattering novel no reader can ever forget.