If you didn't see my new release post, have a look now! And stay tuned this weekend for this month's freebie roundup.
Teaser Tuesdays is a weekly bookish meme. Read the rules and more teasers at The Purple Booker. Anyone can play along.
I am just finishing up As Time Goes By, by Mary Higgins Clark, the Queen of Mystery. I was enthralled with Mary Higgins Clark from the time I read The Cradle will Fall as a teenager. As Time Goes By doesn't disappoint. Lots of intertwining stories, appearances by the beloved Alvirah Meehan and her husband Willy, courtroom drama, and last-minute revelations.  
But as she put down the phone, she had a sudden disquieting moment. Her former nanny, Bridget O'Keefe, had an expression, "When things seem too good, there's trouble on the way."

Mary Higgins Clark, As Time Goes By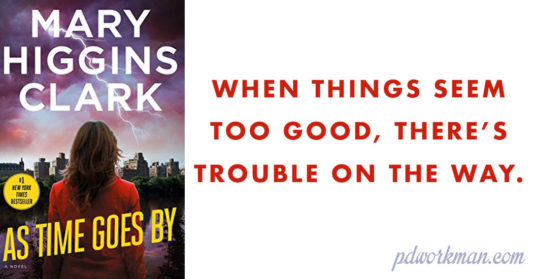 Television journalist Delaney Wright is on the brink of stardom when she begins covering a sensational murder trial. She should be thrilled with the story of her career, but her growing desire to locate her birth mother consumes her thoughts. When Delaney's friends Alvirah Meehan and her husband Willy offer to look into the mystery surrounding her birth, they uncover a shocking secret they do not want to reveal.
On trial for murder is Betsy Grant, widow of a wealthy doctor who has suffered from Alzheimer's for eight years. When her once-upon-a-time celebrity lawyer urges her to accept a plea bargain, Betsy refuses: she will go to trial to prove her innocence.
Betsy's stepson, Alan Grant, bides his time nervously as the trial begins. His substantial inheritance hangs in the balance—his only means of making good on payments he owes his ex-wife, his children, and increasingly angry creditors.
As the trial unfolds and the damning evidence against Betsy piles up, Delaney is convinced that Betsy is not guilty and frantically tries to prove her innocence.