Teaser Tuesdays is a weekly bookish meme, hosted by MizB of Should Be Reading. Anyone can play along!
I have featured both Ruby and Deviation in Teaser Tuesday before, but I have not yet done a teaser for "Looking Over Your Shoulder". So, I will open up my MS file and pick a random scene:
His eyes opened, and he stared at Ursula without moving a muscle.

"Hi, sweetie," she whispered. "Do you know where you are?"

"Crazy, not stupid," he dead panned.

P.D. Workman, Looking Over Your Shoulder,  page 106
Intrigued? I have published a trailer for "Looking Over Your Shoulder", and the cover and synopsis are included below.  It is on sale for just $0.99 on Smashwords this week, in honor of the debut of Ruby.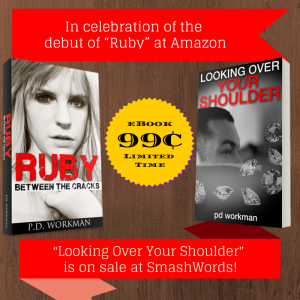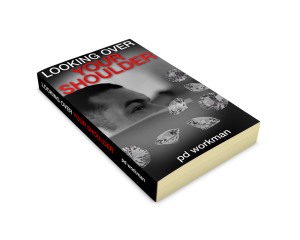 Just because you're paranoid, that doesn't mean someone isn't out to get you.
Things were going well for Abe.  Despite all of his past struggles with mental illness, he was happily married, had three wonderful children, a nice home, and a fantastic consulting business that satisfied his creativity and brought in a good income.
But you can never get too comfortable.  When Abe becomes a prime suspect in a jewel heist – one of the largest successful jewel heists in history – his schizophrenia becomes unmanageable and everything begins to spiral out of control.  Abe's own investigation into the heist has the jewel thieves hot on his tail… but are they really, or is he just losing the battle against his inner demons?
"I was drawn in from the first page and couldn't put Looking Over Your Shoulder down . . . [it] kept me guessing and on my toes."
"An exciting ride that keeps you guessing right to the end."
". . . a sensitive and uplifting look at one family's efforts to triumph over the adversity of mental illness."