by
baking
,
books
,
cozy
,
dog
,
fiction
,
giveaway
,
gluten-free
,
goodreads
,
muffin
,
mystery
,
promo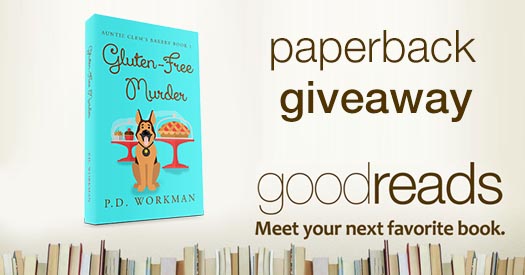 Want to win a free copy of the paperback edition of Gluten-Free Murder? Head on over to Goodreads to enter!
Gluten-Free Murder is currently available on preorder for the kindle edition, and is being released next Friday, September 15, 2017. It is the first in the Auntie Clem's Bakery series, with Dairy-Free Death to follow in October and Allergen-Free Assignation in November. There are also two holiday shorts coming which will be available exclusively through my website.
Erin Price moves to Eagle Falls, a place where everyone knows everyone as well as everyone else's business, taking over the store left to her by her aunt to start up a gluten-free bakery. The grand opening is marred by just one thing, the death of her business rival, Angela Plaint. It appears that Angela was poisoned by one of Erin's cupcakes, making her a prime suspect.
Equipped with cupcakes, her desire for the truth, and new bakery assistant Vicky's help, Erin goes head-to-head against Detective Terry Piper to solve the murder. Rumors of treasure hunting, drug dealing, and a missing boy swirl around Eagle Falls as Erin tries to sort the clues from the red herrings and find the killer before the killer can take care of her.
Full of furry friends, an unexpected murder, and gluten-free goodness, be sure to preorder on Kindle and enter the Goodreads contest for a free paperback copy today!
SaveSave