Teaser Tuesdays is a weekly bookish meme, read the rules at A Daily Rhythm. Anyone can play along!
I read two cozy mysteries at the same time last week, which ended up being a bit confusing. I finished both today, and Final Catcall by Sophie Kelly was the more satisfying of the two! A light read involving a couple of magical cats.
I felt my knees go rubbery with relief. "I'm so glad you're here," I said.

"I wasn't sure you'd say that." The denim-glad legs stretched and stood up. At the same time, Hercules began to hiss because he could see what I now saw.

It wasn't Marcus waiting at my back door.
Sophie Kelly, Final Catcall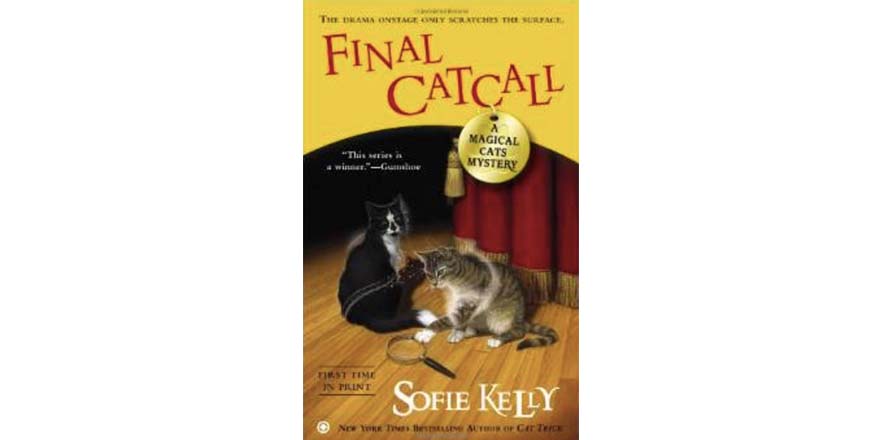 Small-town librarian Kathleen Paulson gets plenty of entertainment from her extraordinary cats, Owen and Hercules. But when a theatre troupe stumbles into more tragedy than it bargained for, it's up to Kathleen to play detective….
With her sort-of boyfriend Marcus calling it quits and her ex-boyfriend Andrew showing up out of the blue, Kathleen has more than enough drama to deal with—and that's before a local theatre festival relocates to Mayville Heights. Now the town is buzzing with theatre folk, and many of them have their own private dramas with the director, Hugh Davis.
When Davis is found shot to death by the marina, he leaves behind evidence of blackmail and fraud, as well as an ensemble of suspects. Now Kathleen, with a little help from her feline friends Owen and Hercules, will have to catch the real killer before another victim takes a final curtain call.