Teaser Tuesdays is a weekly bookish meme. Read the rules and more teasers at The Purple Booker. Anyone can play along.
Have you read Dan Brown's DaVinci Code or Angels and Demons? I'm currently reading Inferno, and it's just as much code-breaking fun as his other books, these ones based around Dante's Inferno and the art and literature surrounding it.
For Langdon, it felt as if a vital weapon had been extracted from his arsenal. I have no memory. Eidetic since childhood, Langdon's memory was the intellectual asset he relied on most. For a man accustomed to recalling every intricate detail of what he saw around him, functioning without his memory felt like attempting to land a plan in the dark with no radar.
Dan Brown, Inferno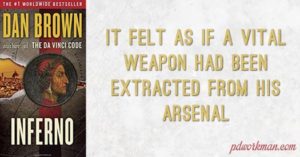 Harvard professor of symbology Robert Langdon awakens in an Italian hospital, disoriented and with no recollection of the past thirty-six hours, including the origin of the macabre object hidden in his belongings. With a relentless female assassin trailing them through Florence, he and his resourceful doctor, Sienna Brooks, are forced to flee. Embarking on a harrowing journey, they must unravel a series of codes, which are the work of a brilliant scientist whose obsession with the end of the world is matched only by his passion for one of the most influential masterpieces ever written, Dante Alighieri's The Inferno.