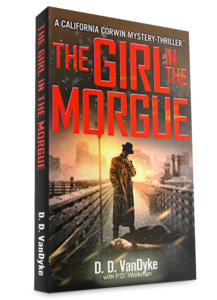 I have been keeping this project under wraps, but now I am in a position to announce my first cowriting project, The Girl in the Morgue. This is the fourth book in D. D. VanDyke's California Corwin P. I. Mystery Series.
Thirty-something ex-cop-turned-P.I. Cal Corwin faces her most puzzling murder case yet. When a friend of a friend dies in suspicious circumstances, the police believe it's open-and-shut. As Cal digs deeper to get to the bottom of the mystery, she finds herself a target for those who want the truth to stay dead and buried.
The Girl in the Morgue is the fourth novel in the Cal Corwin series of hard-boiled neo-noir mystery-thrillers.
The Girl in the Morgue is available for pre-order now.
You can also get the rest of the series here. Book 1 is free!