Teaser Tuesdays is a weekly bookish meme, hosted by MizB of Should Be Reading. Anyone can play along!
I was not going to do a teaser today, I've got so many other things on the go. But with the passing of Robin Williams, I had to do something to memorialize him and say good-bye. He will be sorely missed by millions. His death brings mental illness to the forefront again. Mental illness and addiction do not discriminate; you will find them in all cultures, all age groups, all income levels.
I grabbed Robin Williams, A Biography, by Andy Dougan, and pulled this quote, about Robin Williams receiving an Oscar for Good Will Hunting.
In the midst of his greatest triumph he still found time to think of his parents. He thanked his mother, but especially his father. 'I want to thank my father up there,' he said, gesturing to the ceiling of the auditorium, and praised his father for not standing in his way when he made the decision to be an actor. Then the old performance junkie kicked in again as Williams recovered his composure sufficiently to impersonate Groucho Marx and duck-walk off the stage carrying his Oscar.
Robin Williams, A Biography, Andy Dougan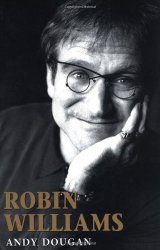 Andy Dougan's biography provides a detailed look at of Robin Williams's life and career from his poor-little-rich-kid childhood to his successes in such films as The Fisher King, Awakenings, and Mrs. Doubtfire. Dougan interviewed Williams five times and spoke with the actor's schoolmates, teachers, colleagues, and costars.
Related articles across the web