Be sure to check out my promos in the sidebar (or if you're reading on a narrow screen device, at the bottom)!
Teaser Tuesdays is a weekly bookish meme. Read the rules and more teasers at The Purple Booker. Anyone can play along.
I finished Wilde Lake by Laura Lippman just a couple of hours ago. Things have been pretty busy around here lately and I haven't been able to do a lot of reading, so it took me a little while to get through. My feelings about Wilde Lake are mixed. To begin with, all of the threads of narrative seem random and confusing. I wondered a few times whether to plow on ahead. Though it has some tantalizing 'legal thriller' passages, it seemed to be mostly a wandering literary memoir with no particular end point in mind.
Obviously, I did keep going, and all of those messy threads do eventually get tied together in some surprising revelations. If you're looking for a 'typical' legal thriller, you won't find it here, but if you're willing to spend some time following all of the rabbit trails, Wilde Lake may be the next read for your pile. Keep in mind there is some PG-13+ action and language.
Keep in mind there is some PG-13+ action and language. My teaser for today:
I wish I could tell you that we mourned the boy who died, but we did not. He was the one with murder in his heart and, sure enough, death found him that night. Funny how that works.
Laura Lippman, Wilde Lake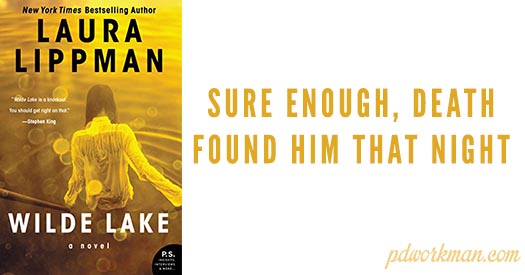 Luisa "Lu" Brant is the newly elected state's attorney representing suburban Maryland—including the famous planned community of Columbia, created to be a utopia of racial and economic equality. Prosecuting a controversial case involving a disturbed drifter accused of beating a woman to death, the fiercely ambitious Lu is determined to avoid the traps that have destroyed other competitive, successful women. She's going to play it smart to win this case—and win big—cementing her political future.
But her intensive preparation for trial unexpectedly dredges up painful recollections of another crime—the night when her brother, AJ, saved his best friend at the cost of another man's life. Only eighteen, AJ was cleared by a grand jury. Justice was done. Or was it? Did the events of 1980 happen as she remembers them? She was only a child then. What details didn't she know?
As she plunges deeper into the past, Lu is forced to face a troubling reality. The legal system, the bedrock of her entire life, does not have all the answers. But what happens when she realizes that, for the first time, she doesn't want to know the whole truth?