It's been a busy week since my last Teaser Tuesday. I finished the first draft of the second book in my new cozy mystery series. And I have started in on my new cowriting project in a female PI series.
Teaser Tuesdays is a weekly bookish meme. Read the rules and more teasers at The Purple Booker. Anyone can play along.
It is still Mystery Thriller Week, and I'm also participating in the Booksweeps Contemporary Thriller contest (enter to get 50 books and a Kindle fire!) so here is a teaser from Red Mist, by Patricia Cornwell, part of the Kay Scarpetta series. I've read a few other books from the series. They are filled with complex relationships and interesting twists and turns:
"I see. When I think I can make a difference, I should never trust it." I used a pair of surgical scissors to cut the shells of boiled jumbo prawns. "When I decide that taking a risk might produce useful information and help bring about justice, it's really my feeling guilty."
Patricia Cornwell, Red Mist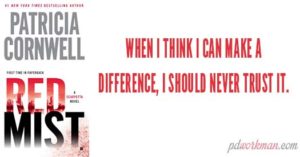 On her quest to find out exactly what happened to her former deputy chief, Jack Fielding, murdered six months before, Scarpetta drives to the Georgia Prison for Women to meet a convicted sex offender and the mother of a vicious and diabolically brilliant killer. Against the advice of her FBI criminal intelligence agent husband, Benton Wesley, Scarpetta is determined to hear this woman out.  
Scarpetta has both personal and professional reasons to learn more about a string of grisly killings: the murder of a Savannah family years earlier, a young woman on death row, and then other inexplicable deaths that begin to occur at a breathtaking pace. Driven by inner forces, Scarpetta discovers connections that compel her to conclude that what she thought ended with Fielding's death and an attempt on her own life is only the beginning of something far more destructive: a terrifying terrain of conspiracy and potential terrorism on an international scale. 
And she is the only one who can stop it.