Be sure to check out my promos in the sidebar (or if you're reading on a narrow screen device, at the bottom)!
Teaser Tuesdays is a weekly bookish meme. Read the rules and more teasers at The Purple Booker. Anyone can play along.
I have just finished one of M.C. Beaton's Agatha Raisin series, Love, Lies and Liquor. I've read a few other Agatha Raisin books and I like her as a character. She's a down-to-earth, somewhat frumpy woman running her own detective agency. Something of a Miss Marple type. She doesn't always make wise choices, but she's a bright woman who manages to unwind the clues and find the perp. As long as she doesn't get kidnapped, killed, or arrested along the way…
"Oh, you silly man," said Agatha contemptuously, "a lot of people threaten to murder people when they get angry. I still don't see what this has to do with me."

"You have identified your scarf. Mrs. Jankers was found dead on the beach. She had been strangled with your scarf."
M.C. Beaton, Love, Lies and Liquor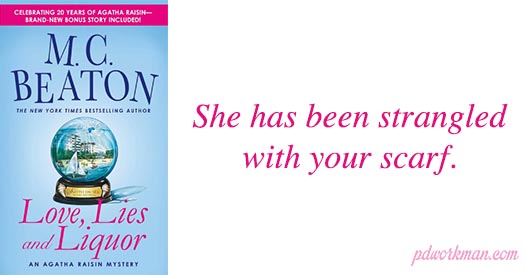 In Love, Lies and Liquor, Agatha Raisin is lonely. Busy as she is with her detective agency and the meetings of the Carsely Ladies' Society, she still misses her ex-husband, James Lacey, so she welcomes his return to the cottage next door with her usual triumph of optimism over experience—especially when he invites her on holiday at a surprise location that was once very dear to him. With visions of a romantic hideaway in Italy or the Pacific dancing in her head, Agatha goes off happily with James to…Snoth-on-Sea, in Sussex.
While James may have fond memories of boyhood holidays there, Snoth-on-Sea has seen better days, as has the once-grand Palace Hotel, now run-down and tacky and freezing cold. Nor do the other guests have much to recommend them, especially the brassy honeymoon couple, Mr. and Mrs. Jankers, who pick a fight with Agatha in the dining room. But trouble has a way of following Agatha even if romance does not: Just as she and James are preparing to flee to warmer climes, Geraldine Jankers is found dead on the beach—strangled with Agatha's scarf. So much for Agatha's holiday fantasies: Not only is it time to put her detective skills to work, but the police are not even sure that she'll be allowed to leave town.