by
P.D. Workman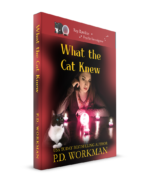 Free 1st Book, Large Print Available!Series:
Reg Rawlins Psychic Investigator #1
Genres:
Cozy Mystery
Author Direct
Retailers
Sample
Bookbub
Goodreads
eBook Price:
free
Clicking the Author Direct button allows you to purchase an ebook directly from the author using your PayPal account (blue button) or a credit card (grey button)
Download format options are Kindle or ePub (iBooks, Nook, etc.) format
This book has all my favourite things: heart, great writing, nearly-flawless editing, something unusual in the air, and a cat.
Talena, Goodreads reader
+ About What the Cat Knew
Reg Rawlins, professional con, has really gotten herself into a bind this time.
The fortune teller gig started as a scam, but she suddenly finds herself tangled up in the case of Warren Blake, a man who she thought was dead. It turns out he may still be alive, but in mortal peril.
Reg has always taken the quick exit, the easy way out, but running out on this racket might mean someone else's death.
Staying in it might mean hers.
Like paranormal mysteries? Psychics, witches, fairies, and more! Award-winning and USA Today Bestselling Author P.D. Workman waves her wand to transport readers to the myth- and magic-filled small town of Black Sands for a paranormal cozy mystery to be solved by Reg Rawlins and her friends.
A self-professed con artist practicing as a contact to the dead, a drop-dead gorgeous warlock, and a psychic cat—what could go wrong?
Fall under Reg's spell today.
---
+ Praise for Reg Rawlins Psychic Detective Series
---
+ Author's Note
---
+ Book Club Resources
---
+ Alternative Cover
---
+ Praise for P.D. Workman
---
+ What the Cat Knew on my Blog
---