by
P.D. Workman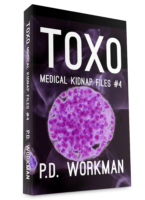 Series:
Medical Kidnap Files #4
Genres:
YA suspense
Author Direct
Buy Now
Sample
Bookbub
Goodreads
eBook Price:
$4.99
Clicking the Author Direct button allows you to purchase directly from the author using your PayPal account (blue button) or a credit card (grey button)
Download format options are Kindle or ePub (iBooks, Nook, etc.) format
Just like every other P.D. Workman book I've ever read, the gritty, raw realism of Toxo does an absolutely incredible job of taking my breath away.
Britt, Goodreads author
+ About Toxo, Medical Kidnap Files #4
Caleb, an autistic teen is mistakenly arrested.
Bad turns to worse when he is then apprehended from his family by DFS.
His mother could never have predicted the chain of events in a million years.
In trying to protect him, DFS has actually put Caleb in harm's way.
Once again, Gabriel and Renata have teamed up to right injustice and to get Caleb to safety. But Andrew Searle is on the case, and it's his job to see that they don't succeed and that Caleb remains in foster care.
Ripped from the headlines, you won't want to miss this intriguing plot!
---
+ Praise for Medical Kidnap Files
---
+ Author's Note
---
+ Book Club Resources
---
+ Praise for P.D. Workman
---
+ Toxo on my Blog
---